Women on Web and the abortion referendum in Ireland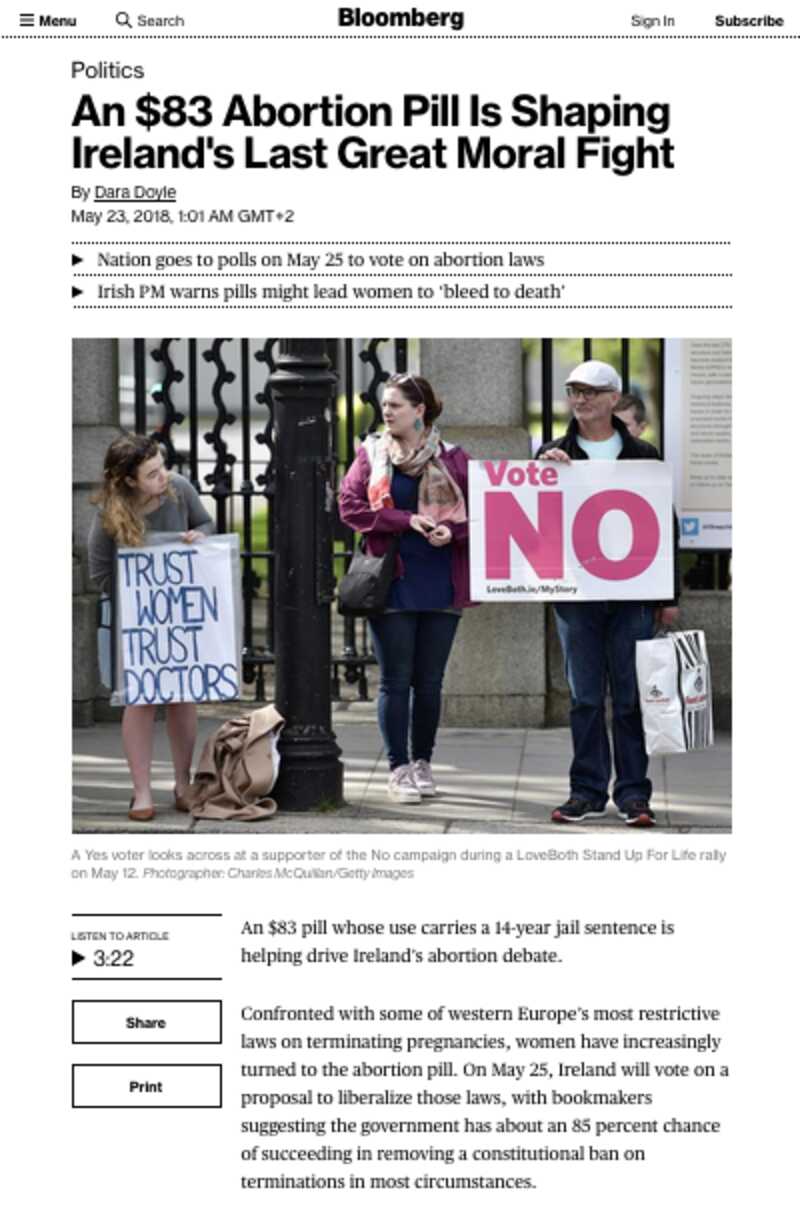 In 2014, Irish Parliamentarian Ruth Coppinger and the grassroots organisation ROSA approached  Women on Web and Women on Waves to collaborate and since we have worked closely together. We collaborated in several high impact campaigns (abortion train in 2014, abortion bus 2015 and 2017 and the abortion drone 2016).  
In support of a law proposal by Ruth to legalize abortion in October 2016, the University of Texas published scientific research about the number and experience of women who used the Women on Web service. Another study about the safety of the use of medical abortion in Ireland was published in May 2017.   
In September of 2017 the media reports that most Fina Gealministers still believed only a very restrictive abortion law would pass  and none of the 4 big parties supported legalizing abortion till 12 weeks.  
Abigail Aiken was invited to testify before the Joint Oireachtas Committee on the Eighth Amendment in November 2017.  She presented the research about the safety, effectiveness, and acceptability of medication abortion through Women on Web in Ireland, as well as the new research on Irish women's decision-making when they need to obtain abortion services, and their experiences both with traveling abroad and availing of online telemedicine services at home.
The testimony about the use of abortion pills in Ireland swayed the opinion of all the parliamentarians, even the conservatives. And on December 14 th, 2017 the Oireachtas committee called for abortion to be legal for all women up to 12 weeks.
As Fine Gael minister Regina Doherty stated in December 2017: "I think the state has finally really recognized that we have a problem  with women buying illegal abortion pills online and we realize we need to mind those women…."
Many Ministers have now come out in support of the proposed law change.
The referendum took place on May 25, 2018 and 66% of the voters voted YES. It was the largest turn out for a referendum ever.
The role of Women on Web and the published research about the women using the online abortion service has been acknowledged in the media.
BBC report on abortion before and after the repeal the 8 th in Ireland

Very nice in-depth report about abortion from the BBC before and after the repeal the 8 th, featuring Rita from our partner organisation ROSA Read more »