May, 17th, 2017
Online Abortion Service Women on Web: a vital alternative. A new scientific study published today in the BMJ shows that telemedical abortions are highly effective.
The study was conducted by researchers from the University of Texas in Austin, Princeton University and the University of Edinburgh. They looked at the data of 1,000 women in Ireland and Northern Ireland who used the service of Women on Web between 1 January 2010 and 31 December 2012.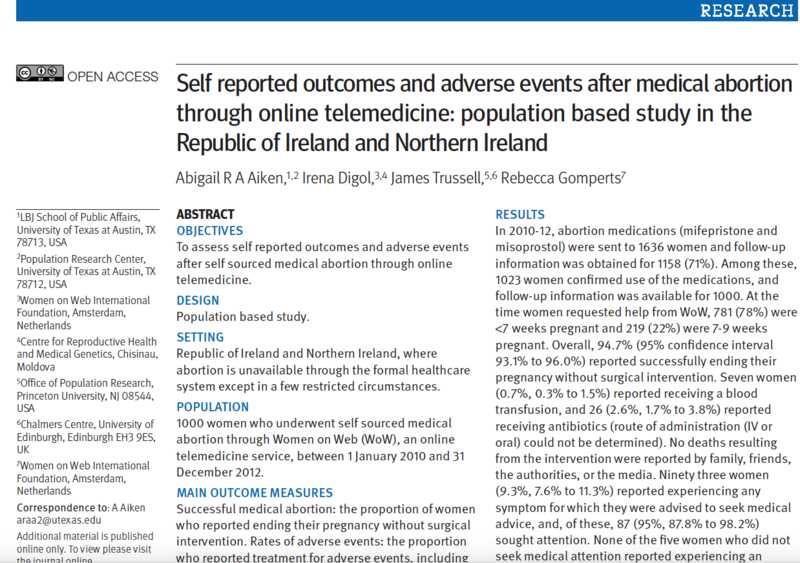 Key findings include:
Self sourced medical abortion using online telemedicine can be highly effective, and outcomes compare favourably with in clinic protocols;
Reported rates of adverse events are low;
Women are able to self identify the symptoms of potentially serious complications and most (95%) report seeking medical attention when advised.
The study is the best evidence to date that self sourced medical abortion through online telemedicine is highly effective, with low rates of complications.
In a linked editorial, researchers in Canada say that "repeal of legal restrictions would support the safest and most equitable abortion care for women in Irish jurisdictions".
"Until then, for the first time in history, women of all social classes in a legally restricted yet high resource setting have equitable access to a reasonable alternative: medical abortion guided by physicians through telemedicine," they conclude.
Media Coverage BMJ Study

A new scientific study published today in the BMJ shows that telemedical abortions are highly effective. The study was conducted by researchers from the University of Texas in Austin, Princeton University and the University of Edinburgh. They looked at the data of 1,000 women in Ireland and… Tümünü oku »