JUJUBE_EARRINGS: Contributing to Reproductive Justice Through Earrings
Many believe that only large groups of people with large sums of money can have an impact on charities, but we often forget how much one person can contribute.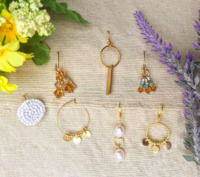 While a lot of people took on new hobbies during quarantine, Lorena Bur came up with a creative way to help fundraise for charities. She set up an Instagram account to sell handmade earrings and then donates all profits to a new charity every month. She chooses organizations that are true to her heart and enjoys spreading their message on her social media account @jujube_earrings
Self-taught through YouTube videos and what she can find online, Bur makes all the earrings on her own. She even adds a personal handwritten note with each purchase, thanking the buyers for contributing to a good cause.
November was initially dedicated to supporting Women on Web, however, with the situation of Hurricane Eta in Latin America Bur quickly recognized the magnitude of the emergency and changed charities to help provide urgent funding.
During the first two weeks of November she was able to collect $165 for Women on Web. She is now resuming the donations for the final two weeks of December. This makes for a perfect holiday gift! We encourage you purchase her gorgeous earrings and help contribute to Women on Web's efforts. The earrings are very affordable at only $10 a pair.
We thank Lorena Bur for thinking of us as a good cause to support!