Seven doctors on trial for manslaughter in Sicily's death for Valentina Miloso in 2016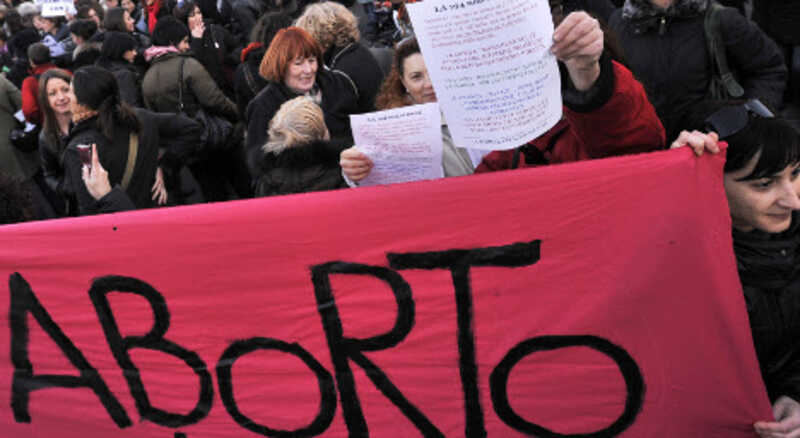 Seven Italian doctors are on trial for manslaughter, accused of failing to do a life-saving abortion as an emergency obstetric care in 2016 for Valentina Milluzzo, who began aborting when she was 19 weeks pregnant with twins. She died of bacteremia, which had to be treated quickly, including evacuation of the uterus, before he could. This cause of death occurred for Savita Halapannavar in Ireland four years ago.
The court has sat twice so far, on October 17 and 29, 2019. The Financial Times reported on October 29, 2019 that doctors said they could not perform an abortion because there were still fetal heart beats. If this is true, they followed the Catholic health policy. The Financial Times report says the hospital and staff deny wrongdoing.
The Financial Times focuses in its report on the extent of conscientious objection in Italy, which is widespread. However, waiting for the fetal heartbeat is a different excuse than failing to for inaction from refusing to perform an abortion on the basis of conscientious objection, although both may be. In an emergency, conscientious objection is illegal in Italy, according to a number of Italian abortion rights advocates who commented on the case. Does the trial answer the question of whether refusal to perform an abortion due to fetal heartbeat, even though the fetus is not viable, is also illegal, at least in an emergency? Or what else happens?
The final report of the inspectors will be submitted within a month.
However, everyone from the media and defenders, continues to return to conscientious objection. La Sicilia newspaper reported that conscientious objectors in Sicily amounted to 87.6%, according to data provided by the Ministry of Health, which was updated last April.
The trial and verdict will set a precedent with many implications, not only for Italy but for other countries as well, regarding professional competence in the face of a rare obstetric event, where health professionals follow the Catholic health policy on abortion, and where all these issues and conscientious objection continue to kill pregnant women.
Source: safeabortionwomensright.org