About Women on Web the organization
Women on Web is a digital community of women who have had abortions, medical doctors, researchers, and individuals and organizations that support abortion rights.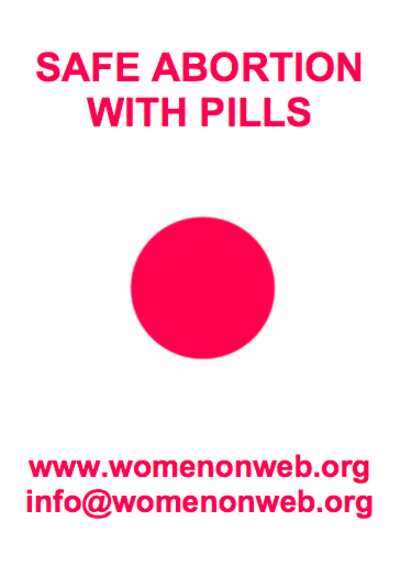 Women on Web is an international collective that answers thousands of help-emails every day in many languages from women around the world. The multi language helpdesk is supervised by medical doctors.  
World Health Organisation researcher Gunatra also stated that access to abortion pills through a telemedicine service such as Women on Web, which gives them information and support, is considered a safe abortion
As Women on Web helps women in very many countries, there is no phone number to the helpdesk, but we will respond to every email and will support you. Never hesitate to contact us at
info@womenonweb.org

with all your questions, we are here to help you and you can count on us!

The contact address of Women on Web network is:
Women on Web, PoBox 15683, 1001 ND, Amsterdam. The Netherlands

Underneath you will also find a list of other highly respected Organizations, Foundations and Individuals that support the work of Women on Web network.

The Women on Web website is collection of personal experiences and a source of reliable information. It supports access to safe abortion services to protect women's lives and health.

On the I had an abortion part of this site, people can donate their portraits and share their stories to break the taboo surrounding abortion.

On the I need an abortion part of this site women in need of abortions can find reliable scientific information about safe abortion with pills.

Research about the Women on Web services, published in the British Journal of Obstetrics and Gynaecology (BJOG), August 2008, has shown that it is acceptable and safe for women to do medical abortions at home in countries where there is no access to safe abortion services. The study showed that with a 78% follow up rate, 6,8% of women have received a curettage or vacuum aspiration by local doctors. This is in the same range as other abortion services provided in outpatient settings.

Click here to read full articles online.

Women on Web is supported by a network of independent organizations and individuals that have no legal affiliation. The organizations have the common aim to advance and support women's access to safe abortions to those in need, to benefit women's health and to provide educational information.

You can join the network by contacting us at info@womenonweb.org
You can also donate money to keep the website online and to help support women's access to safe abortions.

<