Abortion ban ruled unconstitutional; what should revisions be?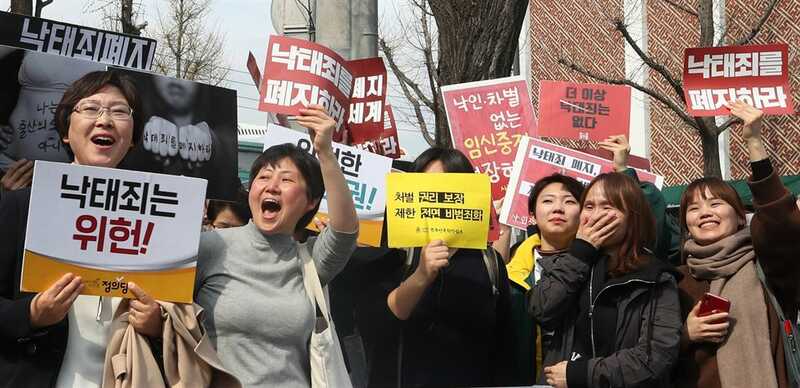 After the Constitutional Court ruled last week that the country's 66-year-old abortion ban must be lifted, politicians face one of their toughest tasks in revising the relevant law: the legal limitations.
In its ruling, the court said banning abortion in the early stages of pregnancy was "an unconstitutional restriction that violates a woman's right to make her own decisions on personal matters."
But it left it to the National Assembly to decide whether to restrict abortions in the late stages of a pregnancy, and when exactly would be too late. In line with the ruling, the Assembly needs to amend the law by December 2020, and if it fails to do so, the law will become null and void and abortion will be permitted at any time during the pregnancy.
Justice Party head Rep. Lee Jeong-mi was the first to submit a revision bill on April 15, which was aimed at allowing all abortions within 14 weeks of pregnancy.
The key point of Lee's bill was the number of weeks of pregnancy during which women are allowed to have abortions. Lee said all women who request an abortion should be allowed to have the procedure within the first 14 weeks regardless of circumstance.
For the limit, Lee said over 90 percent of women get abortions within three months according to data from the health ministry. Abortion has been illegal here, but has been widely performed.
Under the current law, abortions have been allowed only in a few exceptions, such as pregnancy resulting from rape or incest, a serious threat to the mother's health, or the expectation that a child would be born with a severe deformity. The law also punishes women for having abortions without such causes with up to a year in prison, and doctors performing the surgery with two years in jail.
According to data collected by the Korea Institute for Health and Social Affairs, nearly 50,000 women aged between 15 and 44 underwent an abortion in 2017. Among them, 33.4 percent said they decided to get the procedure because the pregnancy hindered their academic or career opportunities, while 32.9 percent said they faced financial hardships.
"Based on the data, three months is believed to be enough time for most women to decide whether they will continue the pregnancy, and it is generally considered to be safe for a women's body to get abortion within 14 weeks of pregnancy," Lee said.
However, Lee suggested one more exception allowing women to have abortions up to 14 to 22 weeks ― "socioeconomic reasons," or when a woman is not able to raise a child due to social and financial reasons.
She also proposed to replace the Korean word for "abortion," which carries negative meaning "dropping a fetus," with more neutral wording, "artificial ending of pregnancy."
Objections
Feminist members of the Justice Party, however, released a statement the following day, saying Lee's proposal was more restrictive than the Constitutional Court's ruling, because the "socioeconomic reasons" would be judged by an external authority not by the women themselves.
"A woman should have the complete right to have control over what happens to their body under any circumstances," the group said in its statement.
The Constitutional Court suggested 22 weeks into a pregnancy as a bar determining whether a fetus could be considered a human being, as fetus can survive alone outside the mother's body after 22 weeks.
"It is also enough time for women to exercise their rights to self-determination about maintaining pregnancy and giving birth," the court said in its ruling.
The court's suggestion, however, is only a suggestion, so lawmakers and the government, together with medical experts, are expected to discuss the extent to which abortions will be allowed.
Overseas cases
Many developed countries including Europe and North America permit women to have an abortion until the 10th to 12th week of pregnancy. Abortion is legal in France within 10 weeks, while in Germany and Italy it is for 12 weeks.
Doctors say those countries set the bar within 10 to 12 weeks not for the sake of fetus, but rather for the woman's health.
"Women will be much safer if they get an abortion during the early stages of pregnancy," said Koh Kyung-sim, a retired obstetrician and a member the Physicians' Association for Humanism who expressed her opinion against the abortion ban during the Constitutional Court's public hearing in May last year.
However, Choi Kyu-jin, a professor of Inha University School of Medicine, said the situations for women in Korea was utterly different from women in those countries.
"Unlike women in countries such as Germany, France and the U.S., Korean women are much more reluctant to go to see a doctor when they are considering an abortion, mainly due to the social stigma attached," Choi said.
For example, the severe social stigma against unmarried mothers has been another factor that led women to seek illegal abortions, the doctor said.
"In a sense, adequate sex education related to abortion has to come first to form social consensus about it before starting a discussion about time limits."
Source: The Korean Times