Fetal remains found in a septic tank at an illegal abortion clinic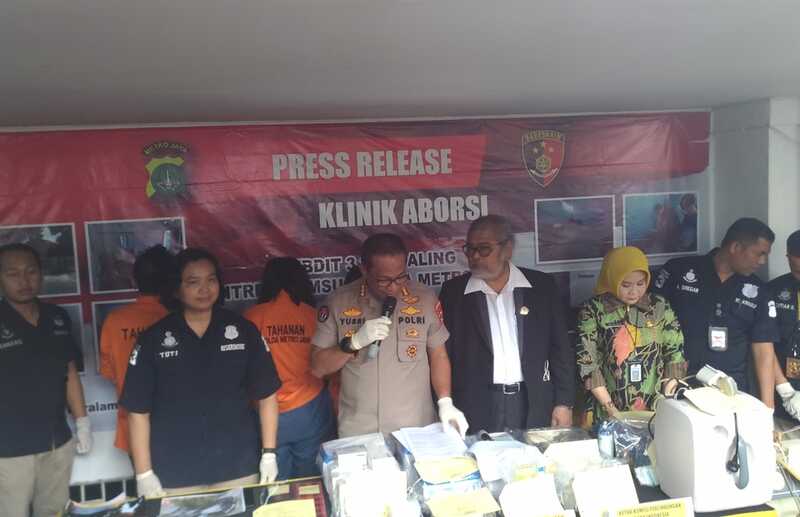 Jakarta police have raided an abortion clinic in central Jakarta and have recovered fetal residue in a septic tank, a police spokesman said on Tuesday.
Three suspects were arrested for running the clinic in a rented house, where police said they had been convicted of the same crime before.
Officers used several bags to collect what was believed to be fetal residue from the sewage tank for forensic laboratory examinations.
"According to the suspects, the aborted fetuses were disposed into septic tank after being crushed using a certain chemical substance. We are still investigating the type of the chemical used by the suspects," Jakarta police spokesman Yusri Yunus told reporters at police headquarters.
According to their calculations, fetuses that are less than two months old are easy to crush with a chemical, but sometimes they had to deal with fetuses greater than four months, the officer said.
"During Friday's raid, we found a fetus that was about six months old and already had hair," Yusri said.
Investigations showed that the clinic had been operating for 21 months, receiving 1,613 patients and 903 of whom aborted.
Police said the suspects earned 5.4 billion rupees ($ 395,000) in profits from the illegal clinic. They took 1 million rupees to abort fetuses that were up to one month old, and the tariff rose for larger fetuses.
Yusri said that for aborting fetuses over three months old, the cost could rise to 15 million rupees.
Police have investigated to look into the alleged involvement of at least 50 nurses and midwives in the network.
He said: "Initial investigation showed 50 nurse-midwives might have been hired to seek patients, while the abortion took place in this clinic."
"There are other clinics like this one, but after the raid they closed their operations and hid," Yusri said.
The police could not immediately question witnesses in the case because of the anonymity of the patients.
The police claimed that most patients came to the clinic to abort a pregnancy outside of marriage.
Source: jakartaglobe.id