Repéré par Barthélemy Dont, de Slate— 12 novembre 2018 à 18h53 — mis à jour le 13 novembre 2018 à 7h34
Une Salvadorienne risque vingt ans de prison pour avoir tenté d'avorter après un viol Un cas qui illustre la cruauté des lois anti-IVG du Salvador
Une jeune salvadorienne de 20 ans est tombée enceinte après avoir été violée par son beau-père. Parce qu'elle a tenté d'avorter, elle est poursuivie par la justice de son pays et risque jusqu'à vingt ans de prison.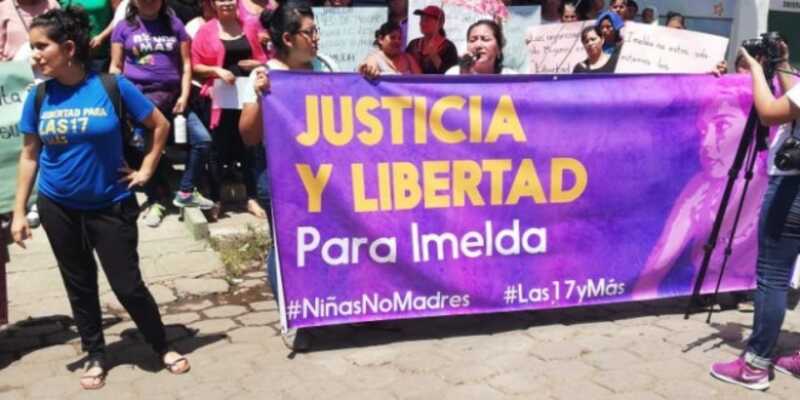 Imelda Cortez vient d'une famille pauvre et était abusée par son beau-père depuis ses 12 ans. Envoyée aux urgences à cause de saignements, le médecin urgentiste, suspectant une tentative d'avortement, a prévenu la police. Après une semaine à l'hôpital, Imelda Cortez a été placée en détention et attend désormais son procès. Elle n'a jamais eu l'autorisation de tenir contre elle la fille à qui elle a donné naissance. Son beau père n'a pas été inculpé. Une pétition pour sa libération rassemble 50.000 signatures 
Le Salvador fait partie des pays avec les lois anti-avortement les plus strictes au monde. Les IVG y sont illégales en toutes circonstances, y compris en cas de viol ou de danger pour la mère. Selon les militantes féministes du Citizens Group for the Decriminalization of Abortion, au moins 129 femmes ont été poursuivies entre 2000 et 2011.
Chasse aux avortements
La chasse brutale aux femmes ayant avorté conduit aussi le Salvador à condamner des femmes après des complications lors de leurs grossesses. Ainsi, Teodora Vasquez, a passé dix ans en prison après une fausse couche, accusée d'avortement. Parmi les femmes poursuivies, celles de milieux pauvres et ruraux sont sur-représentées.
L'avortement est puni de deux à huit ans de prison mais pour Teodora Vasquez, comme aujourd'hui pour Imelda Cortez, les juges ont pour habitude de qualifier les faits d'homicide aggravé, puni de trente à cinquante ans derrière les barreaux.
Depuis sa libération, Teodora Vasquez se bat aux côtés des autres féministes du pays qui l'ont aidée à sortir. En plus d'elle, quatre femmes ont été libérées cette année mais au moins vingt-quatre autres sont toujours en prison pour des peines entre quinze et trente ans, selon le Center For Reproductive Rights.
Article disponible ici.